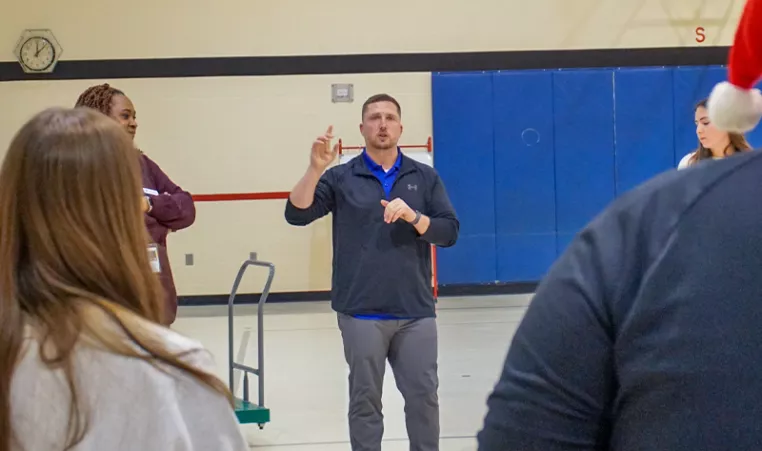 At the YMCA of Lincoln, people make everything possible. We are so grateful for the wonderful staff we have that not only make the Y a great place to be, but serve our community every day. Keep reading to meet one of our amazing team members:
Luke Stege-Tompsett, Northeast YMCA Executive Director
How long have you been working at the YMCA of Lincoln? 
I have been in my current role for almost two years, and with the YMCA full-time for five years. I also worked at the Fallbrook YMCA part-time in college.
What other oles have you had at the Y? 
Prior to becoming the Executive Director, I was the Youth, Teen & Family Director at the Northeast YMCA. In college, I worked as a Summer Day Camp group counselor, site supervisor, and at the Youth, Teen & Family Coordinator at the Fallbrook YMCA.
What makes the YMCA of Lincoln different than other places you've worked?
I love working for the YMCA because of the sense of community that exists here. Everyone is welcome and we have plenty to offer each and every person that comes through our doors.
What has been your proudest career moment and why?
My proudest career moments have been when our team has made a difference in the life of a child and their family. In working with various programs over the years, the YMCA has been integral part of thousands of families every day. I have seen first-hand the benefit our programs have on people in our community and I am proud to be a part of something greater.
What is one of your favorite memories from working at the Y?
My favorite memory working at the YMCA is the summer of 2020. We changed a lot of things about our summer program in order to continue to serve the families in Lincoln, but the YMCA was a resilient organization the provided an answer to one of our biggest community needs. In consolidating programs, I was able to work alongside some of my long-time friends in the Y and was able to spend good quality time with our students. 
What is the best advice you've ever received?
The best advice I have received is to be present fully in things you do and when doing anything of value to adopt the mantra of "Nowhere but here. Nothing to do but this."
What's something most people don't know about you?
I am a big Gregory Alan Isakov fan and hav recently discovered a love for reading.
We want to extend our sincerest thanks and congratulations to Luke for helping to make the YMCA of Lincoln a great place for 5 years! We can't wait to see how he will continue to make a difference in our community in the future.