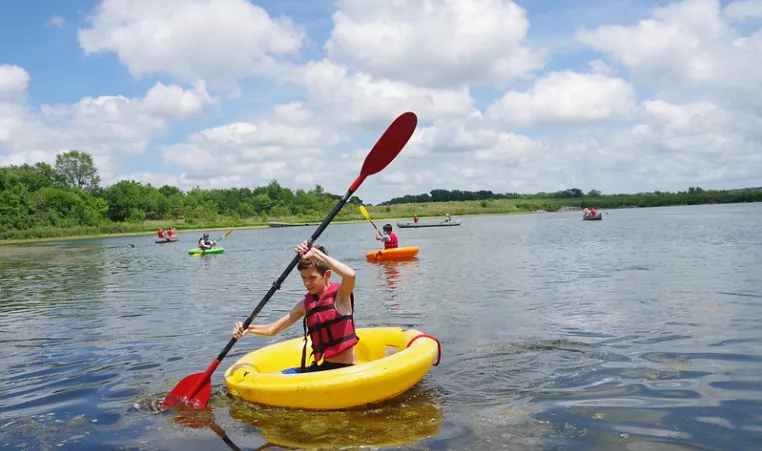 By Suzanne McCormick, Y-USA President
Every summer, from third grade through high school, I was lucky to attend an overnight camp in the beautiful Blue Ridge Mountains of North Carolina. I looked forward to it each summer, counting down the days until I could be back in the outdoors, back with friends and back in person with my camp community.  
I've been thinking about that experience a lot lately, especially as I've been visiting different YMCA camps and seeing kids find that same camp magic that I remember. They were joyful, unplugged from screens and focused fully on trying new activities and having fun with friends.  
In addition to reinforcing for me how pivotal overnight camp can be in a child's development, my visits reminded me that camp offers young people two things that have become increasingly important to their well-being: a respite from their daily stressors and a positive sense of belonging.  
The Benefits of Camp 
Belonging always has been an important component of healthy youth development, and for today's kids it is essential. Loneliness is on the rise for everyone—particularly children and teens. During the past two decades, the amount of time young people spent in-person with friends dropped nearly 70 percent, according to the U.S. Surgeon General. In addition, the number of teenagers (ages 13-17) who reported being online "almost constantly" has doubled since 2015.  
While camp alone can't solve the crisis of loneliness and isolation for kids, it certainly can help. A recent study by the American Camp Association found that many parents said their children returned from camp with deeper friendships and a willingness to try new things. In addition, 58 percent of youth reported their time at summer camp helped them appreciate the importance of being present, enabling them to focus more on developing relationships. 
Addressing Barriers to Camp Access 
Every child deserves these kinds of experiences. Unfortunately, overnight camp is out of reach for many kids. One major and obvious hurdle is affordability. Summer camp can be an added expense that many families can't absorb, especially when you consider the cost of supplies and transportation to and from camp. 
Other barriers also prevent kids from attending, from lack of facilities and support to accommodate their physical or medical needs, to their concern they won't fit in or be accepted, to simply a lack of awareness that camp opportunities exist for them.  
At the Y, we believe every child should have the chance to go to camp. Access shouldn't depend on a family's ability to pay, and as much as possible, YMCAs provide financial support through scholarships, reduced fees, transportation assistance and supplies. In recent years, more than 18 percent of all overnight Y campers received financial support. In 2023, YMCAs across the U.S. are awarding more than $3.8 million in camp scholarships. 
YMCAs work to address other barriers to camp access as well. Some camps are designed specifically to serve kids with physical or medical needs, creating a space where kids with different abilities can fully participate and connect with their peers.  
YMCAs also are dedicated to operationalizing inclusion practices at camp to help ensure their facilities and staff are ready to welcome kids of every background, experience and identity and help them have a positive experience.  
Prioritize and Support Camp in Your Community 
The Y is committed to doing everything we can to make overnight camp more accessible and give as many kids as possible this life-changing experience. We are grateful to our local and national partners and donors, whose support makes overnight camping a reality for so many.  
If you believe in overnight camping, I encourage you to support your local YMCA camping program and help the young people in your life find a camp that can deliver a transformational experience for them.